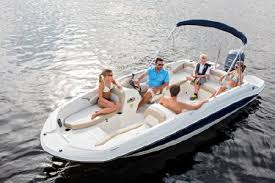 Pleasants Landing at Lake Anna is your premier boat and jet ski rental park in Virginia. If you are looking for fun on the water, you have come to the right place. Whether you are looking for a relaxing day on the water or an exciting adventure, Pleasants Landing Marina has something for everyone.
5% Discount when you book through the website! (Be sure to read all requirements and policies on this page)
Call our rental office:  540-872-4181 ext 10
or email us:  boatrentals@pleasantslanding.com
We do not rent boats to the warm side or private side of Lake Anna. Our boats can only be used on the public side.
Online reservations must be made 48 hours in advance, if  less than 48 hours, please call our rental office.
Book online using this website and receive a discount off of your rental fee.  Reserve your boat today!
| Pontoon | 4 Hours | 8 Hours |
| --- | --- | --- |
|  20′ – 9 People – 60 HP Motor | $185 (or $175 online) | $340 (or $320 online) |
|  24′ – 11 People -115 HP Motor | $220 (or $210 online) | $420 (or $400 online) |
Runabout
4 Hours
8 Hours
19′ – 5 to 7 People – 90 HP OB  Motor                          18′ – 4 to 5 People – 135 HP I/O

(Online reservations may be scheduled in either of these similar boats)

$200 (or $190 online)
$380 (or $360 Online)
| Deck Boat | 4 Hours | 8 Hours |
| --- | --- | --- |
| 19′ – 6 to 8 People -115 HP Motor | $200 (or $190 Online) | $380 (or $360 Online) |
| Jet Skis | 2 Hrs | 4 Hrs | 6 Hrs |
| --- | --- | --- | --- |
|  2 People – Boaters Licence Required | $180 (or $170 Online) | $300 (or $285 Online) | $420 (or $400 Online) |
Rental Requirements
Pontoon Boats
Must over 21 years old.  No Boaters License needed.
All boat rental policies listed below will apply.  Please read them.
Deck Boats and Runabouts
Must be over 25 years old.
All boat rental policies listed below will apply.  Please read them.
Must have Boater's Safety Certificate OR watch a safety video prior to picking up your rental boat.  Once your reservation is made we will email you the following link to watch the 20 minute video and take a short quiz.
https://www.rentalboatsafety.com/power-boats
Jet Skis 
You must be 25 years old and have a boaters safety certificate
Must have a state approved boaters safety certificate unless approved in advance.
Down payments are not refundable if you do not meet requirements and book anyway.  All Jets Ski Rental policies listed below will apply.  Please read them. 
Boat Rental Policies
All Renters must have a valid driver's license and credit card.
The renter is the captain. The person providing the credit card signs the rental contract and must meet requirements to drive the boat.  2 qualified drivers maximum per boat.
Rentals do not include gasoline or sales tax.  Boats come fully fueled. You pay to replenish the gas.
Down payment is required to secure your reservation.
All boats must remain on the public side of Lake Anna. If your rental house is on the private side, your rental boat will not be able to dock at your house. Please be sure you are renting on the public side if you want to take a rental boat to your house.
No Refunds for rentals returned early, except due to weather.  In the case of inclement weather the rental fee will be prorated.
Jet Ski Rental Policies
Drivers cannot switch out. The renter of the jet ski is the driver. If you have more than 1 driver you will need to rent more than 1 jet ski.
Life jackets are required.  We provide for passengers 90 lbs and up.  Child size vests are limited so we suggest you call in advance if you have special size needs.
 Max weight on the jet ski of 400 pounds to keep everyone as safe as possible. All watercraft can hold up to 3 persons, but we try to limit our rentals to 2 persons at a time and allow for passenger switch back at the beach to accommodate families.
Families that plan to use the beach and switch out passengers will be required to purchase beach passes.  Jet ski rentals include 2 free beach passes.  Our current rate is $6 for Adults age 16 and up,  $4 for kids age 5 to 15, kids age 4 and under are free.
Any passengers under 18 will need to have a parent or legal guardian present.  A valid ID will need to be presented to verify age.
CANCELLATION POLICY
All cancellations or changes must be made by email to boatrentals@pleasantslanding.com, or  by calling 540-872-4180.
No Shows and Cancellations within 72 hours of reservation forfeit their entire down payment. On time cancellations are charged a $20 cancellation fee. For multiple day rentals the cancellation fee is $20.00 per day.
Reservation changes are usually not permitted within 72 hours of the reservation. On time changes are charged a $20.00 processing fee deducted from the down payment.
Changing from a full day to a half day is cancelling a half day rental that could have been used by a paying customer.  Therefore full day to half day changes within 72 hours are still charged the full day price.
WEATHER POLICY
If it is raining in the early morning, the weather often clears by 10 AM.  Check the overall day forecast before making the decision to cancel your reservation. Full refunds will only be given if it is a non-boatable day, meaning it is unsafe to boat due to lightning, pouring rain, or extremely rough water.  Cloudy days are boatable days.
ANY EXCEPTIONS to the above policies are at the sole discretion of The Pleasants Landing Management.
Things to Know for Rental Boats
The rules below are for everyone's safety, protection and enjoyment.
Rental fees do not include gas and taxes.  You will be required to pay for the refueling of the boat upon your return.
Most GPS apps work on Lake Anna but we will give you a map just in case.
If you don't have a boater's license you will be asked to sign a dockside safety list provided by the state of Virginia.  You may be required to watch a video if you are renting a deck boat or runabout without a boater's license.  You can watch the 20 minute video at  https://www.rentalboatsafety.com/power-boats and print (or save a copy on your smart phone), the completed test as proof to save time on your rental day.
When going under bridges be sure to put your bimini top down.  It can hit the bridge and become damaged.
Make sure your ladder is up and secured when the boat is moving.  It can hit the bottom and break off.  Ladder replacement is $250.00.
No drugs or alcohol are allowed while driving the boat.
Renter is responsible for prop damage. Do not drive in shallow water and watch out for hazards please.
Make sure your dock lines are inside the boat so they don't get tangled up in the propeller.
Do not untie anything from the boat, including dock lines and fenders.  Do not tie anything on to the dock lines.  They all need to be free and available to tie the boat to the dock. Dock lines are not made to pull tubes.
Make sure your anchor is tied at both ends before throwing it in the water.  Make sure it is back in the boat before you take back off again, as it could fly out of the water and hit someone.
The captain should not let anyone ride outside the rails or on the sides or bow of a boat.
Observe No Wake Buoys and Hazard markers on the lake.
Please return the boat to the gas dock at the end of your rental time. Late fees will be applied if you return the boat late.
Distribute your weight evenly and do not overload the boat.  You could swamp the boat and sink.
The renter/captain is responsible for the entire boat, equipment, and passengers.
Here is a list of some items on the boat and estimated replacement costs that are subject to change:
| Item | Fee |
| --- | --- |
| New Prop: | $140 – $180 |
| Prop Repair: | up to $85 |
| Ladder: | $250 |
| Anchor: | $35 – $50 |
| Dock Line: | $10 |
| Fender: | $25 |
| Throw Cushion: | $16 |
| Life Vest: | $10 – $50 |
| Fire Extinguisher: | $28 |
| Tube/ Tow Rope/Tow Harness | $200/$25/$45 |
Prices are subject to change.